TOP 10 Erros de Implementação de AMP — Pesquisa da SEMrush
Oct 11, 2017
2 min read
Accelerated Mobile Pages (AMP) já estão sendo consideradas a tendência mais quente do ano que vem. No mercado desde Fevereiro de 2016, AMP foram criadas para ajudar a melhorar a experiência de navegação na Internet, permitindo carregamento mais rápido de páginas com vídeos, imagens, animações, etc.
Hoje em dia Google está promovendo o crescimento internacional de AMP; em breve todos os anunciantes AdWords poderão usar o formato AMP para oslanding pages deles; e digo mais - accelerated mobile pages também podem ranquear na posição 0 do Google (featured snippet).Embora a tecnologia continue sendo alvo de debates e cepticismo, está ficando claro que será impossível evitar o uso de AMP em 2018.
O site do Projeto AMP está fornecendo todos os tutoriais necessários para a implementação e informações sobre os 30 principais erros que devem ser evitados.
Como você já pode saber, SEMrush introduziu uma nova verificação que no momento é única no mercado - agora a nossa ferramenta de Site Audit monitora seu site rastreando todos esses erros de AMP, junto com outros 40+ erros técnicos de SEO. Também desenvolvemos um guia para mostrar como a SEMrush pode ajudar a implementar AMP da forma correta.
Para ajudar os webmasters a priorizar seus esforços decidimos descobrir os 10 erros mais comuns de AMP usando a ferramenta Site Audit e verificando 300 sites de 8 países. E com muito prazer que compartilhamos esses dados com vocês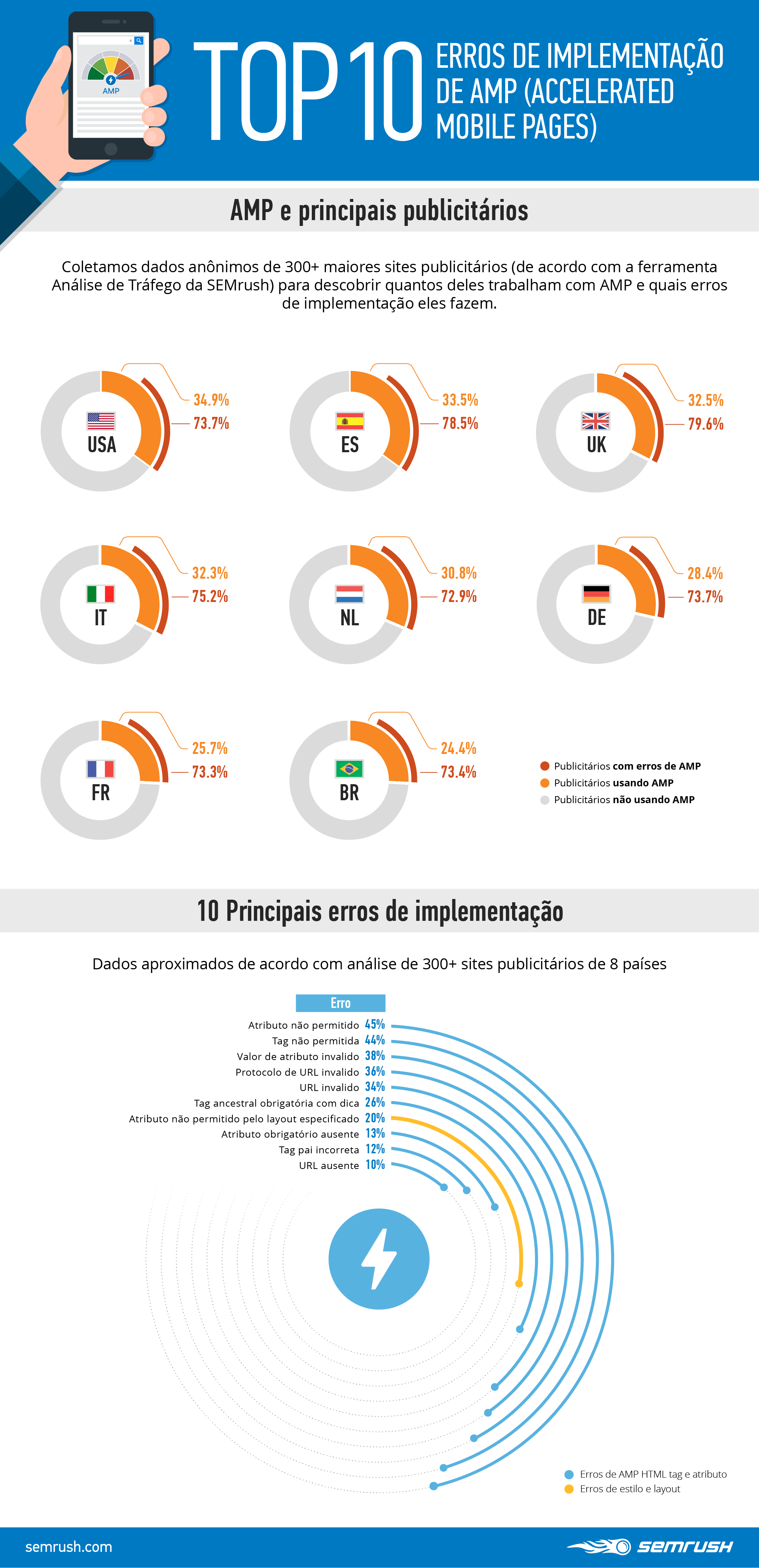 Como pode ver a percentagem de grandes publicitários que adotaram AMP varia de 24% a 34% dependendo do país. Não temos dados suficientes para dizer se isso é muito ou pouco, no entanto pode ser interessante fazer a mesma pesquisa em 2018 para comparar os resultados.
A percentagem de sites com erros de implementação de AMP é bem grande, mas a parte mais interessante para os webmasters são os erros em si. A nossa pesquisa mostrou que os 10 principais erros são:
Top 10 Erros de Implementação de AMP
Durante a pesquisa rastreamos todos os 30 erros de implementação, mas no final decidimos mostrar só os primeiros 10, já que os erros abaixo da posição 11 são bem raros.
Erros de HTML são líderes entre os erros de AMP. O pior é que são os erros mais sérios que tiram toda a vantagem da sua página AMP.
Infelizmente não é tão fácil cumprir todos os requisitos de AMP HTML. Por exemplo, lidando com tags e atributos você precisa fazer trabalho árduo para descobrir quais deles são permitidos e quais não. É fácil fazer um erro e para corrigí-lo normalmente você precisa remover tags não permitidas e alterar o protocolo para um válido.
Limitações parecidas com as de HTML também existem para estilo e layout. Além disso, é necessário incluir atributos de altura e largura para cada tag para facilitar a rolagem da sua página.
Embora os erros de estilo e layout não são tão comuns como os de HTML, se você os ignorar pode acabar sendo excluído de SERPs. Felizmente é bastante fácil corrigir esses erros.
Erros de template são bem raros, por isso não aparecem em nosso top-10.
Como pode ver, não é tão fácil acompanhar de perto todas as tendências de SEO e estar por dentro da saúde do seu site. Na maioria dos casos isso envolve fazer malabarismo com várias ferramentas e aplicativos. Por isso a ferramenta
Site Audit da SEMrush oferece uma solução all-in-one, beneficiando todos - e o dono da agência, e o in-house webmaster.
[ create-campaign bg_images="https://static.semrush.com/blog/uploads/media/75/d9/75d968e482d1a761aa18f1a23fbbd17b/amp-compaign-banner.jpg" bg_button="-success" header="Faça auditoria de suas páginas AMP" text="com SEMrush Site Audit"]
Elena Terenteva
Elena Terenteva, Product Marketing Manager at SEMrush. Elena has eight years public relations and journalism experience, working as a broadcasting journalist, PR/Content manager for IT and finance companies. Bookworm, poker player, good swimmer.
9 Steps to Creating SEO-Friendly Content
Industry Shifts, Online Stats & Surefire Insights for Digital Marketing Growth. In this turbulence-proof ebook, we highlight the industries that made the smoothest transition to online. You'll see...
More articles about Technical SEO